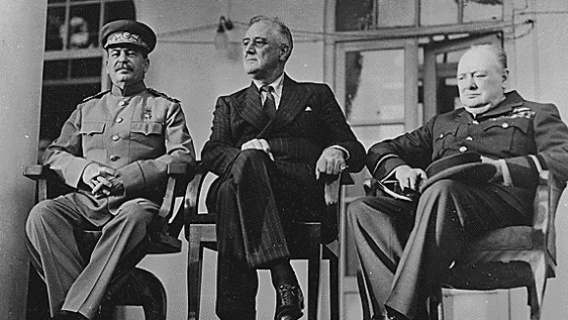 Dear chelas,
Come now friends, we are striving towards a unified humanity, yet I see many western politicians, within the British establishment, in resistance to our goal...A humanity at peace with itself, as one...
For example, the current Tory (capitalist stooge) British Foreign minister, still stubbornly seeks to place Russia in a bad light, in spite of Russia's grand achievements in Syria, celebrated by a music concert in Palmyra, Syria...of which Hammond considers to be in "bad taste."
Now, let us review our histories, Mr Hammond.....?? Let us observe the so called "big three" relationships of WW2....?
Now, surely the most dullard of modern Tory politicians, will know that history is indeed to be observed in it's actuality...??? In it's akashic accuracy...??? In it's complete meaning...??
How can Russia be viewed as an enemy, within the context you propose...??? Your context seems to be based on economy and rivalry, yet short on essential diplomatic and more importantly, a sober military history...
How did Winston Churchill view the Russian bear...??? I would say with much more wisdom than does the modern Tory party of Great Britain....The people of the UK do not feel anger towards Russia...Indeed, we love them, as comrades and fellow Europeans.....Though they be slandered and hated, mostly by the elites or Europe and America.....Those financial elites of a less than noble morality, in the main....
Now our fellow, dear Winston Churchill, garnered respect for Russia and it's leader at that time, Joseph Stalin.....and indeed, so too did US President, Roosevelt.....One of the best of American politicians I would say...

We had the Big Three conferences, of Tehran, Yalta and Potsdam...The USA, British Empire and Soviet Union...Who made the world order we know today........One based upon what later became the UN....One of some semblance of international order.....
So what if this order is challenged by evil forces, as seems the case in 2016...???
Well, we have a solution.......It is planned for...It involves Russia, as an essential part of that solution.....
So I call upon all US and UK politicians to remember Winston Churchill's stance, with the former USSR....How he learned to respect Stalin, in spite of his differences, politically...How they got together, to defeat that greater menace, that was Nazi Germany....
I do not forget, because, in my past life, I WAS THERE IN THE MIDST OF IT ALL......I know....

Thank you, historical "Big Three"..........I salute you all.....
Much love and salutations...
Colonel Drekx Omega, Cmdr, GFL Ground Crew, East Anglia Sector, England, United Kingdom
P.S.    Oh Russian friends and comrades, congratulations on your magnificent 2016 Victory Day celebrations.....I so look forward to that wonderful time, when my Sirian Star nation may likewise put on a flight pass, of similar gravitas.... Officially, rather than in secret....Awesome work..