Dear Ones,
Apart from all the celestial beings, the Galactic Federation of Light and the Ascended Masters no one knows exactly what will happen on the 21st of December. But using a bit of logic it cannot be anything but good news for Gaia and for humanity, this for several reasons.
- Would the Galactic Federation of light work continuously for decades just to see their work go up in smoke as the 21st brings disasters and doom in which many people perish?  They are far too loving and intelligent to let that happen.
- The following chart of earthquakes magnitude-5.0 or greater over the last decade comes to us from americandailyherald.com....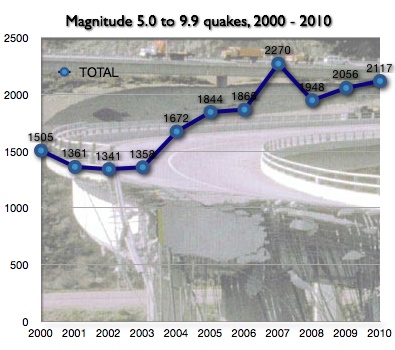 So the number of major earthquakes are rising, but the casualties of these earthquakes are not, so we are being protected and well protected. As the 2004 tsunami, Haiti and Japan  http://www.henrymakow.com/theargumentfukushimasabotage.html were Illuminati jobs they were not taken into account.
- If the Ascended Masters will return to earth and if our Galactic family is here, will they just come to see how we leave our bodies?
Well believe what you will, I believe that our Galactic family, the Ascended Masters are here or will come here to make our transition as smooth as possible after we made sure to be ready for it. How closer we will get to December 21st, the more doom-day stories will arise, so if you are doubting please do not believe everything you read.
:Love, light and laughter