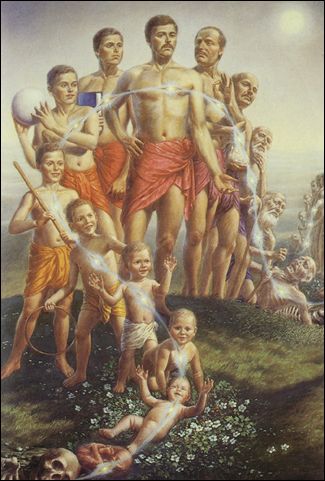 Earlier this year the Chinese government banned the concept of reincarnation, in a political move directed at Tibetan religious identity. Of course, this political need to ban natural and inevitable truths, is illusory….
It would be as insane as if they banned winter snow and ice….All based on political machinations at the exclusion of all else.
Many modern church attendees are unaware that their religion does not preach reincarnation because of the wily machinations of a Roman Emperor, rather than because this concept or doctrine is invalid...
Indeed, in ancient times, including Europe, such a notion was taken for granted as true and natural.
Reincarnation is an esoteric truism, as inevitable as the changing of the seasons...It relates to the law of Cause and Effect and allows a soul to burn of the karma of misquaified energies, by re-entering the third density world, to make amends. Indeed, this would explain the massive disparities between individual lives expressed......why one man is born a blind and impoverished cripple, and in stark contrast, another is born a wealthy and successful scholar......only on the basis of reincarnation can Prime Creator's perfect justice be seen at work, in the lives of the many types of people incarnated.
In Europe, the "christian" church banned reincarnation back in 553 AD, at the ecumenical council of Nicea. This was at the prompting of the nefarious Roman Emperor Justinius, who ordered the Pope to ban reincarnation and censor reference to it in the Bible, which existed before the ban…
The Pope did not want to co-operate, knowing that reincarnation is a divine principle and enables the proper function of the law of Cause and Effect…
How else would karma be burned off, if human souls had no right to re-enter this dark material world and experience lives of great variance…?
Of course, karma is not a doctrine, as religionists think, but an esoteric truism.
So another political stunt that, this time, the Chinese government have demonstrated.
Of course, like Justinius, this is all politics and oppression and nothing good will come from it, for the Tibetans.
I wonder if there are many modern church christians who realise that they don't follow the truism of reincarnation, simply because of the political will of an evil Roman Emperor and his wife..??
Maybe the churches will admit this folly before the world, one day....
Selamat kasijaram zau.. (Sirian for "be blessed in the love and joy of spirit…!") 🙏
Col. Drekx Omega
http://www.share-international.org/archives/agelesswisdom/aw_bannned.htm