Another indication the U.S. Corporation is desperate for funds is the fact that NASA (Not A Space Agency) is seeking survival money from Japan.
https://mainichi.jp/english/articles/20200101/p2a/00m/0na/006000c
The U.S. Corporation was able to fool China and get funding to keep its operations going after the Lehman crisis by promising a black communist president—Barack Obama.
This time may be different, because so far only the Federal Reserve Board is buying U.S. stocks and U.S. Treasuries.

https://www.zerohedge.com/s3/files/inline-images/40246456-157812232...
However, FRB funny money is not acceptable for the U.S. Corporation's international payments that are due January 31st.
The fact is that U.S. debt is soaring, while population bombs and denying reality with funny money are not going to solve the problem.


https://www.zerohedge.com/s3/files/inline-images/40246456-157804748...
What the American people need to understand is that the world is trying to free them from the U.S. Corporation's Babylonian debt slavery and restore the Republic of the United States of America.  This will lead to a huge jump in U.S. living standards, similar to the near doubling of Russian living standards that was seen after Vladimir Putin kicked the Khazarian mafia out of his country.
Buy Book The Paradigm: The Ancient Blueprint That Holds the Mystery of Our Times
Even if the U.S. Corporation is funded past January 31st, the world is headed for extreme turbulence and a major purge as the Zionist beast is put down, Pentagon sources say.
The situation in Iran has distracted from many radical events taking place elsewhere in the world.  For example, the Zionist press is ignoring the news that their Venezuelan opposition leader and self-proclaimed "president" Juan Guaidó has been removed from his post as chief of the National Assembly, as multiple Venezuelan media outlets have reported.  This means they will not be able to use Venezuelan oil to pay their bills.
Meanwhile, the massive wildfires threatening Australia are now being labeled by Australian police and military sources as a deliberate attack on that country.  This arson is being accompanied by a huge corporate media campaign aimed at trying to force the Australian government to pay a carbon tax to cabalists, Australian secret intelligence service sources report.  Police say most of the fires have been caused by arsonists and not by "global warming."
https://summit.news/2020/01/03/australian-police-say-arsonists-ligh...
Also, as in California, some of the Australian fires look unnatural.  Why are only the vehicles burned, as seen in the picture at the link below?
https://www.theguardian.com/australia-news/2020/jan/01/australia-bu...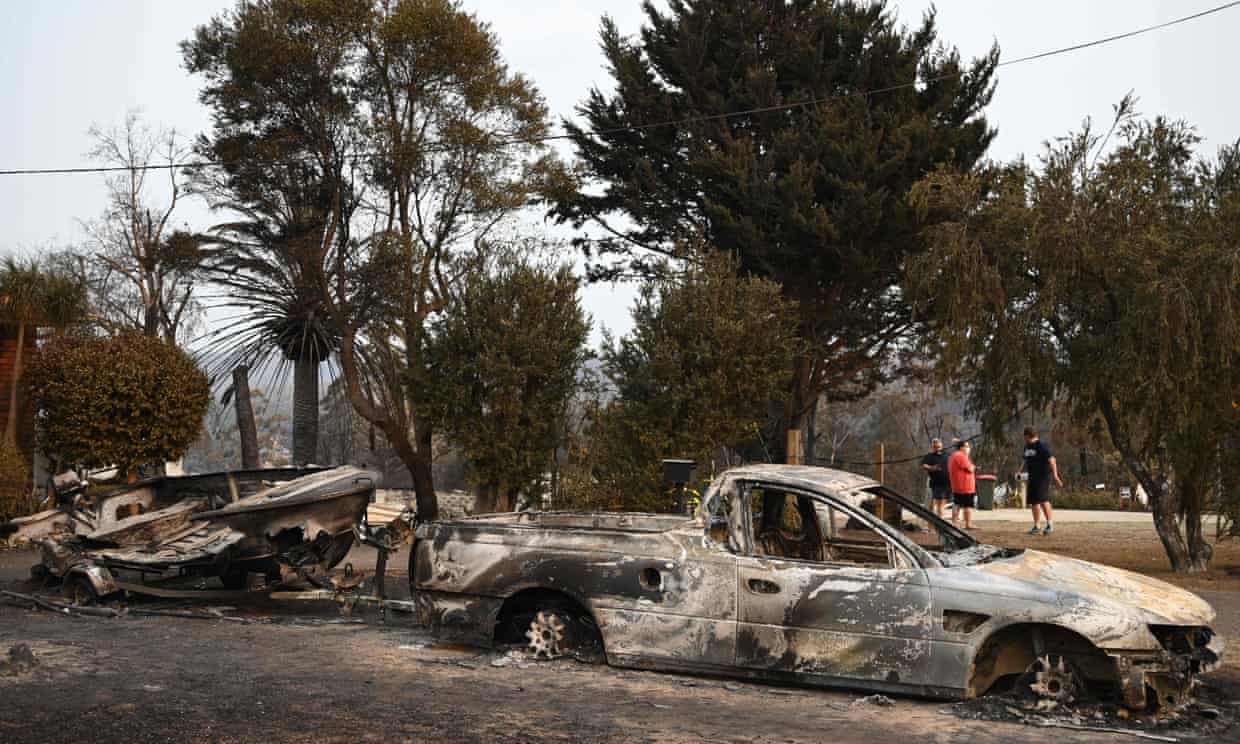 France, for its part, is facing a revolution as the Zionists try to keep themselves afloat by stealing French pension money just like they already stole Japan's pension funds.  The massive strikes and year of demonstrations are only intensifying as French living standards continue to plunge under the regime of Rothschild-slave president Emmanuel Macron.
https://news.yahoo.com/thousands-march-against-pension-reform-paris...
https://www.rt.com/news/477466-paris-pension-reform-protest/
P3 Freemason sources say France will experience regime change in 2020.  "It's a good time to invest in guillotine futures," one source joked morbidly.
The P3 have also revealed a bit more about themselves.  They say the P1 was created two centuries ago and was replaced by the P2 sixty years ago.  The P2 has been replaced by the P3 in 2020.  The biggest difference between P3 and P2 is that the P3 has no Mafiosi in its membership, they say.
Buy Book The Brotherhood of Freemason Sisters: Gender, Secrecy, and Fraterni...
Buy Book Inside the Brotherhood: Further Secrets of the Freemasons
The P3 are saying the Germans under Angela Merkel are now the main obstacle to world peace and the creation of a future planning agency.  This means Merkel will be under great pressure to resign in 2020, one of the sources says.  This will be seen in the form of an increasingly destabilized EU, they say.
The other underreported but drastic event taking place is secret warfare between the Chinese and the Khazarian satanists.  China's food supply is being hit with "pig ebola" and "army worms," and now Chinese people are coming down with a SARS-like disease.
https://www.scmp.com/news/hong-kong/health-environment/article/3044...
https://www.dw.com/en/china-investigates-sars-like-virus-as-dozens-...
Also, Taiwan's top military general was killed in a helicopter crash that was almost certainly a murder.
The Chinese are responding to these attacks by using scalar weapons technology to hit certain Americans, according to British Intelligence reports.
Buy Book Targeted Individuals, Mind Control, Directed Energy Weapons: Untouched Torture, Misshape Human Body, Nano Psychotronics Weapons
The Zionists are also now rattling their nuclear sabre as satanist Prime Minister Benjamin Netanyahu accidentally on purpose says Israel is a "nuclear power."
https://www.reuters.com/article/us-israel-netanyahu-nuclear/netanya...
They have also been making multiple threats against Japan recently, claim Japanese right-wing and other sources.  The latest is a renewed threat to use directed energy weapons to cause Mt. Fuji to erupt.
https://www.japantimes.co.jp/news/2020/01/03/national/300-years-maj...
The Gnostic Illuminati and others threaten to retaliate against any new attack on Japan by blowing up Washington, D.C., Rome, and Jerusalem with 500-megaton nuclear bombs.  Also, the Khazarian mob was reminded that hundreds of earthquakes were reported in the Island of La Palma immediately after the March 11, 2011 attack on Fukushima.  If La Palma's precarious rock formation falls into the sea, the East Coast of the U.S. and Southern Europe will be hit with a 100-meter tsunami.
Buy Book Nuclear Waste in Your Backyard: Who's to Blame and How to Fix It
Despite all these threats and counter-threats, we must not forget the reality that world peace is far more likely than world war.  The people of the world overwhelmingly reject the attempt by the Zionists and their counterparts in Iran to provoke WWIII.  The U.S. military and European allies are rejecting calls for war with Iran.  The Chinese and Russians are also telling Iranian hardliners they will not be fooled into WWIII.
Iran's government has been in peace talks with Saudi Arabia and the U.S.  That's why Iranian President Hassan Rouhani recently visited Japan.  After the attack on Soleimani, the Gulf States including Saudi Arabia called for peace.
https://www.bloomberg.com/amp/news/articles/2020-01-05/saudi-deputy...
Certainly there may be more provocations by the Zionists as their satanic project collapses around them.  However, they have lost the ability to fool and manipulate the world's military forces into a world war.  This means the writing is on the wall for the Zionists, and it reads "Peace on earth, goodwill to men."