https://cdn-0.stillnessinthestorm.com/wp-content/uploads/2020/11/Trump-Legal-Team-Pushes-Back-Against-Reports-Reasserts-600-000-Pennsylvania-Ballots-Were-Improperly-Processed-300x177.png 300w, https://cdn-0.stillnessinthestorm.com/wp-content/uploads/2020/11/Trump-Legal-Team-Pushes-Back-Against-Reports-Reasserts-600-000-Pennsylvania-Ballots-Were-Improperly-Processed-768x454.png 768w, https://cdn-0.stillnessinthestorm.com/wp-content/uploads/2020/11/Trump-Legal-Team-Pushes-Back-Against-Reports-Reasserts-600-000-Pennsylvania-Ballots-Were-Improperly-Processed-600x355.png 600w" alt="" width="800" height="473" data-ll-status="loaded" />
(JACK PHILLIPS) President Donald Trump looks on after delivering an update on "Operation Warp Speed" in the Rose Garden of the White House in Washington, on Nov. 13, 2020
Related TRUMP DROPS BOMB: This Is Exactly What Gateway Pundit Has Been Reporting! — Dominion Caught – VOTER FRAUD IN THE MILLIONS!
by JACK PHILLIPS, November 16th, 2020
President Donald Trump and his campaign have pushed back against reports claiming they have scaled back lawsuits and allegations about voter fraud during the Nov. 3 election, asserting they will continue to make a complaint that over 600,000 Pennsylvania ballots were improperly processed.
Campaign spokesman Tim Murtaugh on Monday morning criticized the Washington Post's report, describing it as a "complete mischaracterization of the Trump campaign's litigation in [Pennsylvania]," and it is "erroneously claiming the campaign had dropped the claim of nearly 700,000 ballots processed illegally and in secret." He added: "The campaign did no such thing."
"Our lawsuit in Pennsylvania absolutely still makes an issue of the 682,479 mail-in and absentee ballots that were counted in secret," Murtaugh said, suggesting that the Post failed to investigate their amended complaint in court.
Trump re-posted Murtaugh's statement on Twitter, echoing his claim that the Jeff Bezos-owned newspaper "forgot to read the complaint," while stressing there are outstanding allegations from GOP poll watchers in Pennsylvania who were barred from watching the vote-tallying process. Rudy Giuliani, the former New York City mayor who serves as a lawyer and associate to Trump, also disputed the paper's report.
Giuliani said another reporter, Politico's Josh Gerstein, "has a reading deficit" and "didn't read paragraphs 132 to 150 of the amended complaint."
The Post reported that attorneys filed a fresh complaint "removing allegations that election officials violated the Trump campaign's constitutional rights by limiting the ability of their observers to watch votes being counted."
Pennsylvania Secretary of State Kathy Boockvar, a Democrat, has repeatedly rejected the Trump campaign's allegations there was any voter fraud or irregularities in the state. Her office has not responded to a request for comment.
"The extant state law issues still should be resolved by Pennsylvania state courts," lawyers from Pennsylvania Attorney General Josh Shapiro's office said on behalf of Boockvar, according to a statement provided to news outlets over the weekend. "Although the Secretary does not believe that oral argument is necessary to dispense with Plaintiff's allegations and claims, counsel for the Secretary will appear and be prepared for argument as scheduled for Tuesday … if the Court still intends to hear the argument."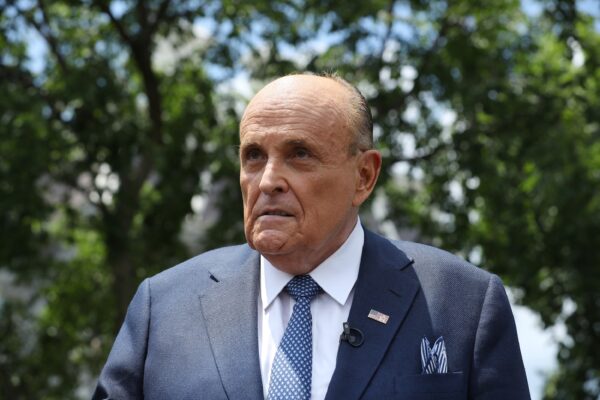 President Donald Trump's lawyer and former New York City Mayor Rudy Giuliani speaks to reporters outside the White House in Washington on July 1, 2020. (Chip Somodevilla/Getty Images)
U.S. District Court Judge Matthew Brann, an appointee of former President Barack Obama, has scheduled oral arguments on the case for Tuesday and will hold an evidentiary hearing Thursday.
In a statement to Fox News, the Trump campaign noted that it changed the complaint and "strategically decided to restructure its lawsuit to rely on claims of violations of the Equal Protection Clause of the 14th Amendment to the U.S. Constitution," but they said the ballots that were not observed are part of their complaint.
"Our poll watchers were denied meaningful access to watch the vote counting and we still incorporate that claim in our complaint," Murtaugh also told the news outlet. "Unfortunately, fake news activists rushed to print their clickbait headlines, apparently without even reading the lawsuit. That's lazy journalism at best, but more likely intentionally misleading."
NEW YORK TIMES BESTSELLER • Impeccably researched, this riveting journalistic investigation separates fact from fiction, and documents the existence of—and government reactions to—actual UFOs. "A treasure trove of insightful and eye-opening information."—Michio Kaku, PH.D., bestselling author of Physics of the Future
Stillness in the Storm Editor: Why did we post this?
The news is important to all people because it is where we come to know new things about the world, which leads to the development of more life goals that lead to life wisdom. The news also serves as a social connection tool, as we tend to relate to those who know about and believe the things we do. With the power of an open truth-seeking mind in hand, the individual can grow wise and the collective can prosper.
– Justin