http://www.blogtalkradio.com/vickers_tree/2010/10/24/vickers-tree-shamanism-with-host-cynastry



On 10-24-10 you will learn how to remove the veil to find your powerful, true self. Join us to discover the secret of the 12 GOLDEN KEYS!

*You are invited to hear the author talk about how to live consciously as Soul intended. M. J. Milne says: "We are powerful visionaries. We are the only beings on this planet that we know of, who are conscious of our consciousness. We have the ability to consciously evolve and we're finally taking responsibility to create a world we want to live in. First, we need to remove the veil that keeps us from our inner guidance."

*M. J. Milne will talk about the twelve strategies to create your world, your way. The 12 GOLDEN KEYS are a powerful toolbox for tackling the challenges of a world in transition and a catalyst to reignite your spiritual quest. By practicing key exercises, you can co-create and change your life, reclaim contentment to live abundantly as Spirit intended, and take your place within the "New Earth" consciousness.

*These 12 Keys are for people of all spiritual paths and religious backgrounds. Everyone is welcome!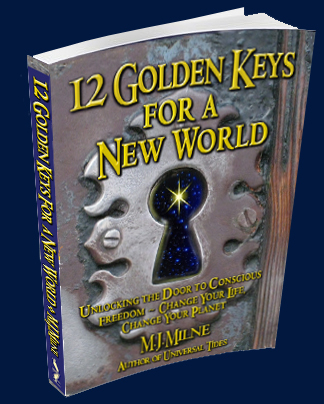 M. J. MILNE had a spiritual awakening 20-years ago and her life took a major turning point. She has written magazine articles, screenplays, and the prophetic new-age/science-fiction novel Universal Tides® (e-Book available at UniversalTides.com) in which the 12 Golden Keys first evolved. In July 2010 she released her new book: 12 Golden Keys for a New World: Unlocking the Door to Conscious Freedom ~ Change Your Life, Change Your Planet (Blue Heron Productions, 2010; ISBN: 978-0-9739654-1-4). Sign-up for free monthly e-Letters: 12GoldenKeys.com and UniversalTides.com

"M. J. Milne's book is an important practical guide with a valuable message about how the power of soul can influence and transform your life. I consider this path of the 12 Golden Keys to be a universal spiritual practice, a journey into healing the mind, body, and spirit." —JAMES TWYMAN, New York Times best-selling author, The Moses Code
Blue Heron Productions

M. J. Milne, North Vancouver, B.C., Canada V7N 4M2
| info@12goldenkeys.com | 12GoldenKeys.com