About Yourself
I teach Natural Health Therapies which are free systems and the teachings of the ancients, to people who want to cure chronic physical illnesses. I have also written a book on these therapies which is available as a free download on my website www.becomehealthyorextinct.com. Please feel free to download and read it, and share it with others as well. I do a 1-day workshop on health titled "Curing Chronic Illness without Medicines" twice every month in various Indian cities. It is sometimes followed up by a 3-day spiritual workshop called 'The Alchemy of Spiritual Transformation' for those who wish to be part of the great evolutionary transformation that is under way on our planet. For more on this, please visit my website www.fromthealphatotheomega.com. I like to know and work with people who feel that there are many things that are not right in the world today, and so, are doing their bit to make this world a better place. I am one of those 1st wave Indigo s, and a Rainbow Light Warrior. Do connect if you have business with me :) .
Your Teachers and/or Spiritual Sources of Inspiration
Shiva Gorakshanath Babaji, Anandamayi Ma, Jesus Christ, Sai Baba of Shirdi, Sri Yukteshwar Giri, Yogiraj Gurunath Siddhanath, Lobsang Rampa, Ken Wilbur, Dr.Hulda Clark, Ashvin Dalal, Sunyogi Umasankar, Yvette Pancras, Dr.Mercola, Prof. Park Jae Woo. .
Saturday July 24, 2021  9:00 AM (Pacific Time) - $35Throughout the ages, certain individuals have been given special missions and assignments to monitor and protect the planet by guarding portals, magical holy treasures and dark gateways to the…
"@san --There is a 13 degree pole shift in progress causing some and weather weapons causing some. Financial crisis!!! Politicians have stolen several generations of our children's money for the cabal. The world has been bankrupt for years. They…"
"While we are angry about Corona and vaccine, natural disasters break out elsewhere. I think you can speak of a larger scale. Do you really believe that the dark side is behind every large Flood, Fire or Erthquake on Erth? What if not? Shan (Erth)…"
"Is the corona pandemic just a pretext to hide a financial crisis? Quite time-consuming and the reason for more financial problems or these problems were already there before and it is explained with the pandemic? What if it did. is? Does the virus…"
"Rand Paul grilled Fauci in a congress hearing, the days of Fauci should be numbered, if we were in a real world. lol"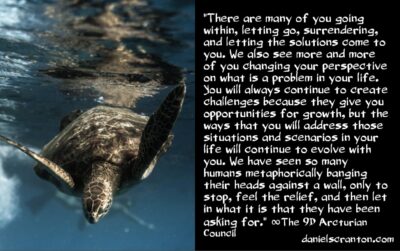 Little Miracles All Around You ∞The 9D Arcturian Council, Channeled by Daniel Scranton"Greetings. We are the Arcturian Council. We are pleased to connect with all of you.We have enjoyed the process of getting to know humanity on a more intimate…
More…