Not really impressed  with most channeling.  Matthew Messages always skewer to leftist ideology, maybe it's the channeler(his mother) but he always praised obummer/clintons and that gang of thieves and we now see the unbelievable corruption they were involved in-and possible human trafficking/satanic rituals-it is a fact that bill was on a plane manifest to 'pedo' island 29 times and H was on it 2 times with Huma!!!
Seth information is a network from an alternate reality-a human spirit realm -was originally disseminated by Jane Roberts and now by Cas Smith and Mark Frost.

Who is Seth ?
Seth is the internationally acclaimed spiritual teacher who spoke through the author Jane Roberts while she was in trance, and coined the phrase "You Create Your Own Reality." Seth's empowering message literally launched the New Age movement.
The books written by Seth have sold over seven million copies and have been translated into over eleven languages.
Seth's clear presentation of the furthest reaches of human potential, the eternal validity of the soul, and the concept that we create our own reality according to our beliefs, has rippled out to affect the lives of people in every corner of the globe.
Seth's voice clearly stands out as one of the major forces which led to the current New Age philosophical movement.
His work (first published in the late 1960s) has withstood the test of time and is still the most dynamic, comprehensive, brilliant and undistorted map of inner reality and human potential available today.
If you want answers to life's most important questions, if you want to improve your life conditions, Seth will show you how, not by relying on him, but by accessing and using the tremendous so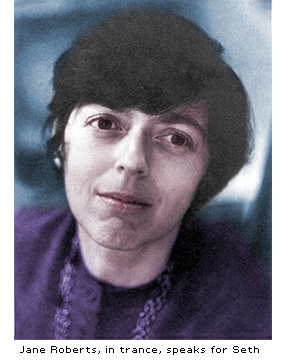 From the Seth Audio Collection, Vol 1, Tape 1:(read along with text below)
"Your beliefs form reality. Your individual beliefs and your joint beliefs. Now the intensity of a belief is extremely important...
And, if you believe, in very simple terms, that people mean you well, and will treat you kindly, they will. And, if you believe that the world is against you, then so it will be in your experience. And, if you believe...IF YOU BELIEVE THAT YOU WILL BEGIN TO DETERIORATE AT 22, then so you shall.
And, if you believe that you are poor, and always will be, then so your experience will so prove to you. Your beliefs meet you in the face when you look in the mirror. They form your image. You cannot escape your beliefs. They are, however, the method by which you create your experience.
It is important that you here realize that you are not at the mercy of the unexplainable, that you are not at the mercy of events over which you have no control whether those events are psychological events or physical ones, in your terms.
As I have told you, there is little difference if you believe that your present life is caused by incidents in your early infancy or by past lives over which equally you feel you have no control. Your events, your lives, your experiences, are caused by your present beliefs. Change the beliefs and your life changes." –Seth
Here's what leaders in the field of human potential say about Seth:
[ Hover mouse over text to stop ]
"I would like to see the Seth books as required reading for anyone on their spiritual pathway. The amazing in-depth information in the Seth books is as relevant today as it was in the early 70s when Jane Roberts first channeled this material."
   - Louise Hay, author of You can Heal Your Life
"The Seth books present an alternate map of reality with a new diagram of the psyche… useful to all explorers of consciousness."
   - Deepak Chopra MD, author ofAgeless Body, Timeless Mind
"Seth was one of my first metaphysical teachers.
   He remains a constant source of knowledge and inspiration in my life."
   - Marianne Williamson, author ofA Return to Love
"The Nature of Personal Reality: A Seth Book had an important influence on my life and work.
   Seth's teachings provided one of the initial inspirations for writingCreative Visualization."
   - Shakti Gawain, author ofCreative Visualization
"I count Jane Robert's brilliant book,The Nature of Personal Reality as a spiritual classic and one of the influential books in my life. As I closed the last page, I looked up at a new world - boundless and filled with possibility."
   - Dan Millman, author of The Way of the Peaceful Warrior
Re: The Nature of Personal Reality: A Seth Book 
   "Quite simply one of the best books I've ever read"
   - Richard Bach, author ofJonathan Livingston Seagull
"The Seth Books were of great benefit to me on my spiritual journey and helped me to see another way of looking at the world."
   - Gerald G Jampolsky MD, author of Love is Letting Go of Fear
"As you read Seth's words, you will gain more than just new ideas.
   Seth's energy comes through every page, energy that expands your consciousness and changes your thoughts about the nature of reality."
   - Sanaya Roman, author of Living with Joy
"...without exaggeration, Jane Roberts should be recognized as one of the major religious innovators in Western society after World War II.
   Given her pivotal role in creating the foundations of a comprehensive belief system now widely diffused through Western popular culture, she has been surprising neglected by scholars of Western esotericism and of new religious movements.
   A major critical monograph is long overdue."
   - Dictionary of Gnosis and Western Esotericism  -edited by Wouter Hanegraaff

You can also get Seth Books here